If you are bored of the fake and horrible people you see in London, sick of visiting museums and galleries everytime you go on a trip within Europe, or just simply stressed out and want to relax and take a deep breath of some clean, fresh air, try Dublin. The place might be small, but within this little city is full of warmth, tradition and simplicity, as well as the fun. I did not expect much from it before my journey, afterall it's a town just next to the UK, I mean how good can it get? However, I actually found it full of surprises.

Republic of Ireland

The People
Irish people originally gave me the rough and violent impression (due to my limited knowledge of their history with the British over religious disputes and the upon) After I visited the place, all changed. People were sincere, friendly, and helpful. Not only do they treat tourists as very important guests, they also do everything they can to spread and maintain their traditions and cultures. Thus in Dublin, you can easily gain access to a detailed constructed tourist information offices. The one that we went to, looked like a church. Inside, friendly staff are experienced, and vitally, patient enough to answer all your questions- From routes, admission fees to things to see/do.
People of Dublin are also overly honest. Whenever you dine, they will never ask you to pay, nor is there anyone to watch your back. There seemed a strong mutual trust within the people. There were many times we could have simply walked out without paying a penny, and they wouldn't have noticed. When we did not have enough change to get on a bus, but the driver let us on anyway. There was also an incident where the pick-up spot was mistakened for a tour that we joined. The Driver actually went to every spot to look for us and ensured that we were found before setting off to the venue.
 
Irish men outside the infamous Temple Bar
The Food
Many might find Irish food pretty similar to English. In fact, I guess it is. Irish people LOVES potatoes. They have to every day and for every meal. The traditional dish, which you will see on display on every single pub or restaurant, is the

Irish Guinness Steak Pie/ beef stew.
(approximately €11-€13). It actually tastes nothing like Guinness. If you are not a regular English food eater, you might find this quite an enjoyable cuisine. They also enjoy eating Salmon steaks, Seafood Chowder(approx €12), Fish and chips(approx €10), Steaks (approx €15)and sausages, ALL served with either mash potato or baked baby potatoes, you just cant run away from them! My favourite was the seafood chowder, which sits between soup and stew, can be used as a dip for sweet brown bread.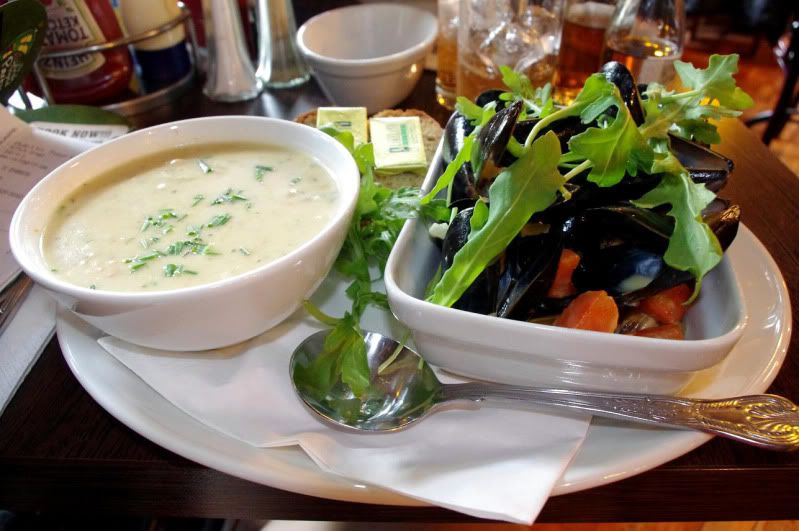 Seafood Chowder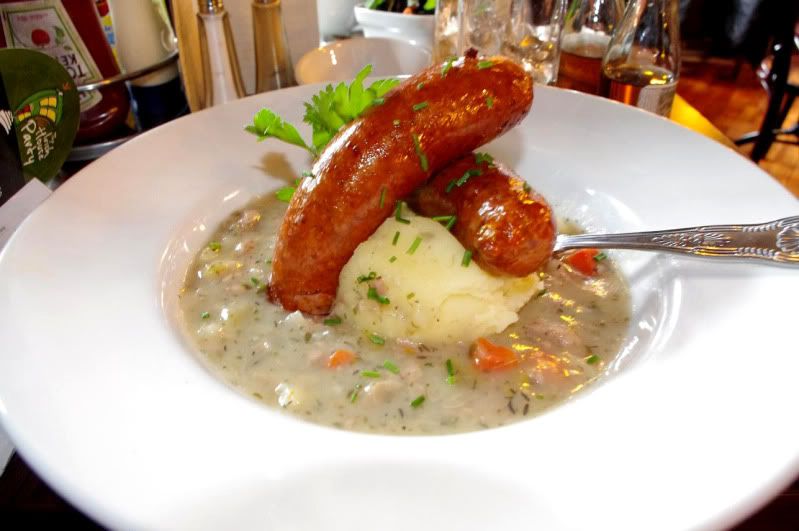 The Dublin Coddler

Something special and unique to Irish cuisine is "white pudding". Similar to the "black pudding" we have dyring a traditional English breakfast. The taste is stronger, texture is softer. And of course you cannot miss having a pint of GUINNESS (€4.5)during your visit. I cannot stress how much they love Guiness. They drink it like water, and so much that the soft drinks you order are all flat...But I was never a fan of alcohol and so... I could only stick to orange juice!

Traditioal Irish Breakfast

The traveller's recommendation: Visit

The Quays' Restaurant- Temple Bar

for a good quality dinner. Moderate prices. I tried the seafood chowder and the Dublin Coddler (see photos)
The Quays
Where to Go, What to See
I personally don't think you need more than 4 days to go round the entire Dublin. This time, we skipped ordinary art galleries and history museums and joined more interactive and exciting tours and explored the special elements of Dublin. Below are places that I visited and also my thoughts regarding its worthiness.
In Dublin, live guides are hired and they do not use the audio gudies, hence you can ask questions on the spot. However, this also mean that there is limited space for entry. Each museum/ gallery you visit. There will often be a set entrance time, normally every 90 minutes. So if you go too late, you might have to sit around and wait.

The Dublin Castle
(€4.50/ €3.50 for students)
A short tour about the parliamentry history of Dublin. The castle was burnt down once during the 17th century and therefore was rebuilt afterwards. Thus you will not be able to see it in its original form. The catle features with some old paintings of imporatnt political figures and traditional ornaments and decorations in different rooms, however nothing extraordianry compared to the Buckingham Palace/ the Windsor Castle. However admission was reasonable and therefore not a bad exprience. No need to visit if you are not much of a history/ politics fan.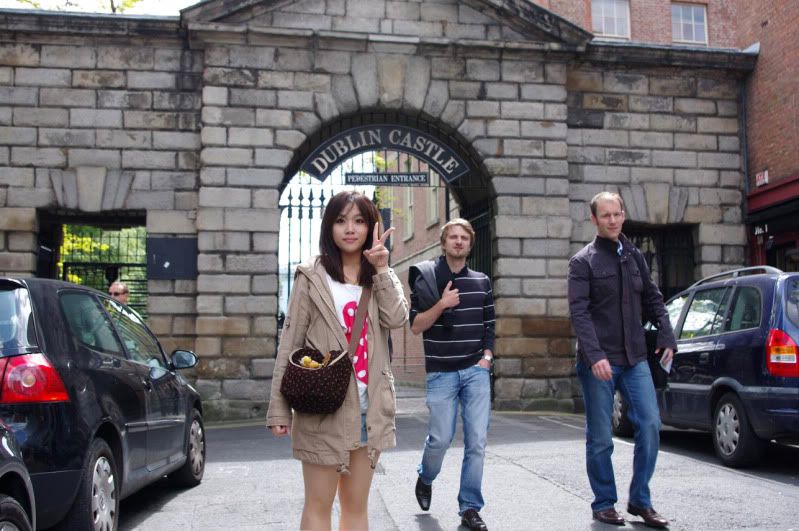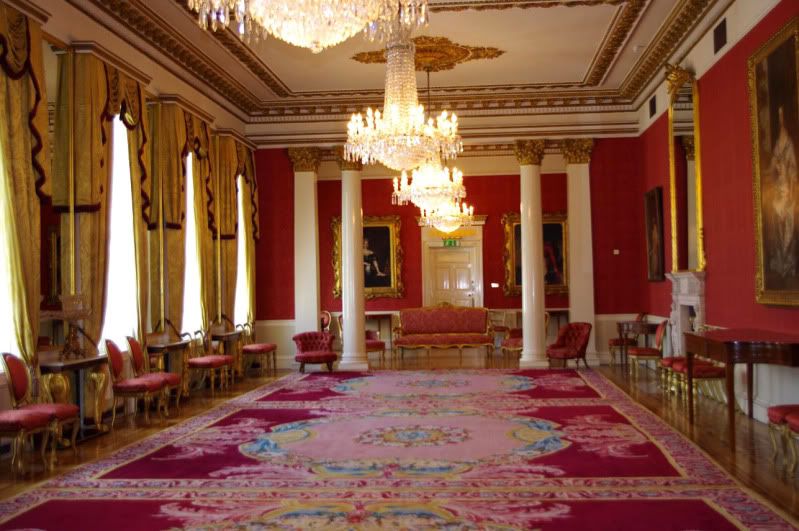 The Kilmainham Gaol
(€6/ €2 for students)
The Kilmanham Gaol is a very famour tourist attraction, and also the venue where the movie
The Shawshank Redemption was filmed. Follow the tour guide and experience how many in history suffered in this poorly conditioned gaol. The Gaol is special because it was never refurbished. Thus what you see is exactly the same as the early decades in Irish history. Listen to the tour guide and pay sympathy to the people in the past. It is a thoroughly enjoyable exprience within super reasonable prices.
The Wicklow One day tour
(€24/ €22 for students:
book at tourist information office
)
HIGHLY RECOMMENDED!
Fasten your seatbelts, ladies and gentlement!
It was one of the gratest day tours I have ever been to. Your trip will not be completed without visiting the beautiful landscapes of Wicklow, situated outside of Dublin (Approximately one hour journey by coach) I was completely in love with it. Many popular modern movies including

PS I love you

and

Brave Heart

was shot here. Furthermore, one of the members from the

Beatles

composed his song

"Yesterday"

in front of the Guiness Lake. Not only do you get a full day 9:30-5:00 tour around the top of the hill and have many chances to take extraordinary photos of the potrait- like landscapes, I promise you your journey on the way will not be boring either. We were so lucky to have such an experienced and charismatic driver/ tour guide, John. He must have been a charm when he was young. He does not only tell you about the history and culture of Dublin, but also his personal (?) experiences as a local Irish person.
And now let me take your breath away by showing you the photos of the day.
For more information visit
http://www.coachtoursofireland.ie/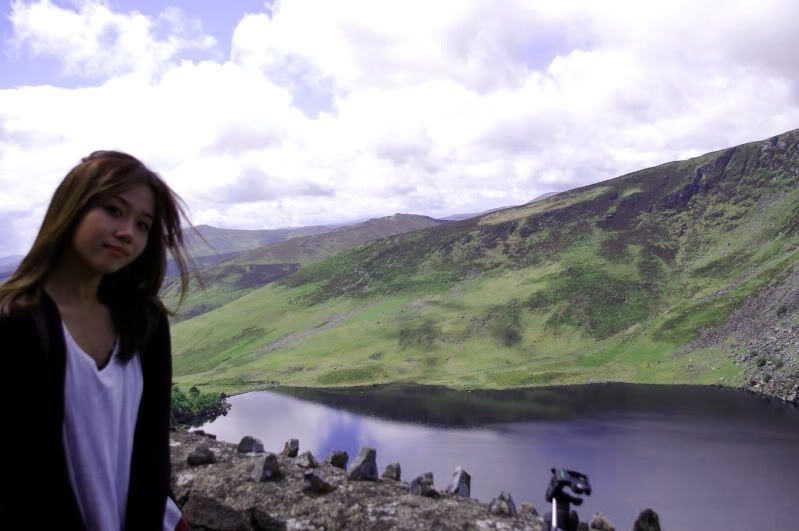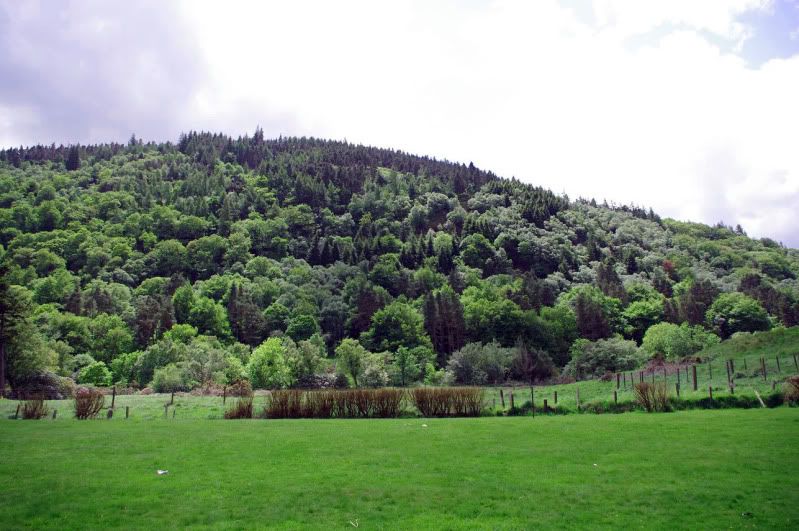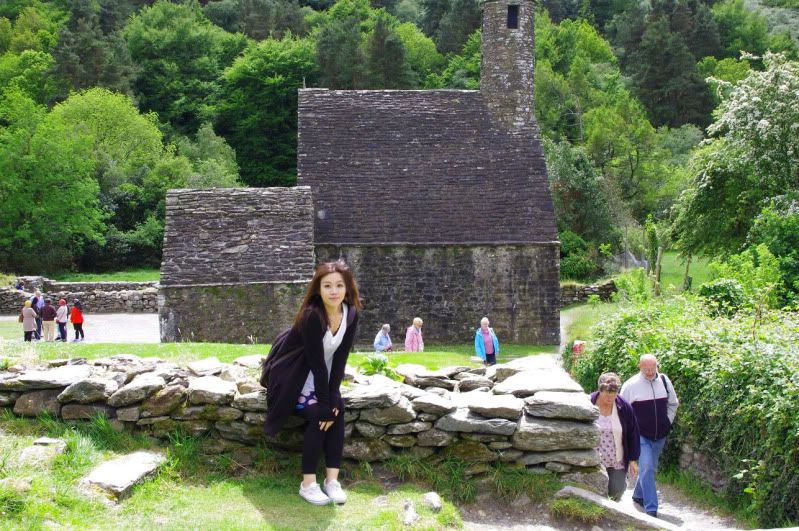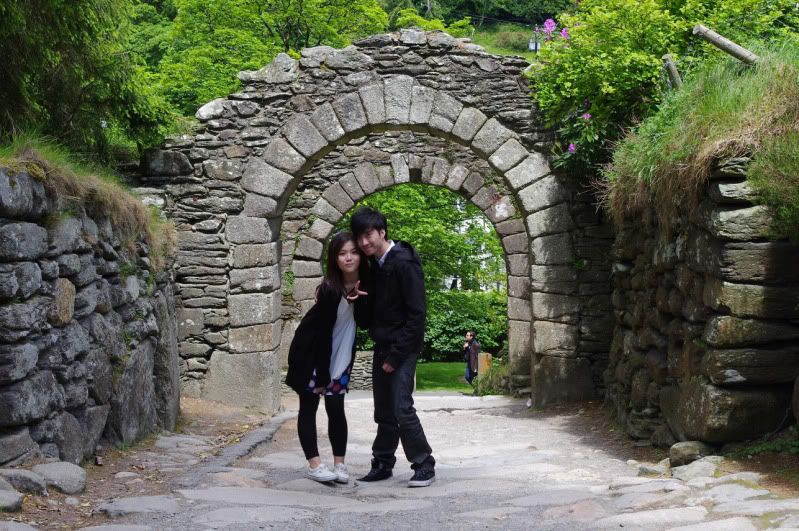 The Guinness Lake
Traditional Irish Music Party
(€45/ €40 for students:
book at tourist information office
)
What I love about travelling is that everywhere you go you can always see something that is unique to that region; something that you will never see in a different country. In Dublin, life seems very simple and innocent. No hit about fancy modern technology, people enjoy to have a pint of Guiness in the evening and catch up with friends, whilst listenning to their traditional Irish music and maybe traditional dancing. This time I decided to join one of these tradiational Irish parties. It was a fantastic experience to get a taste of the live performance of Irish music, played with their unique instruments, and also a professional Irish dance. The atmosphere is great and although a little pricey, I promise you it's worth the money.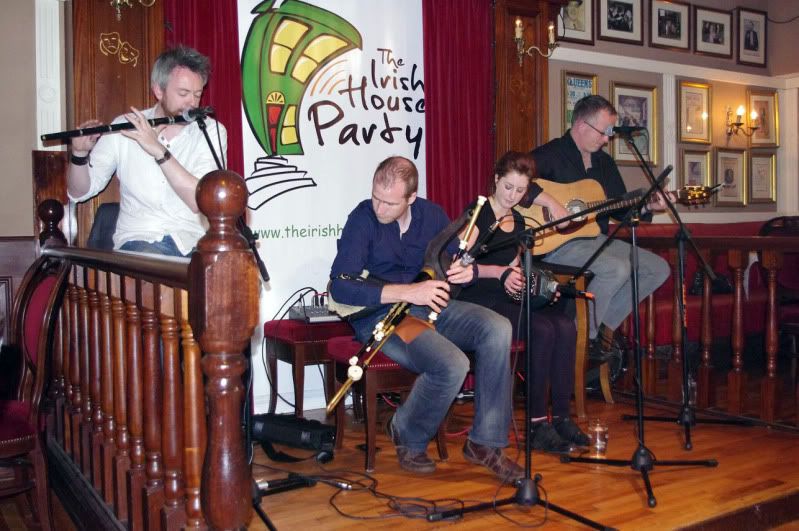 Live Irish music and dance performance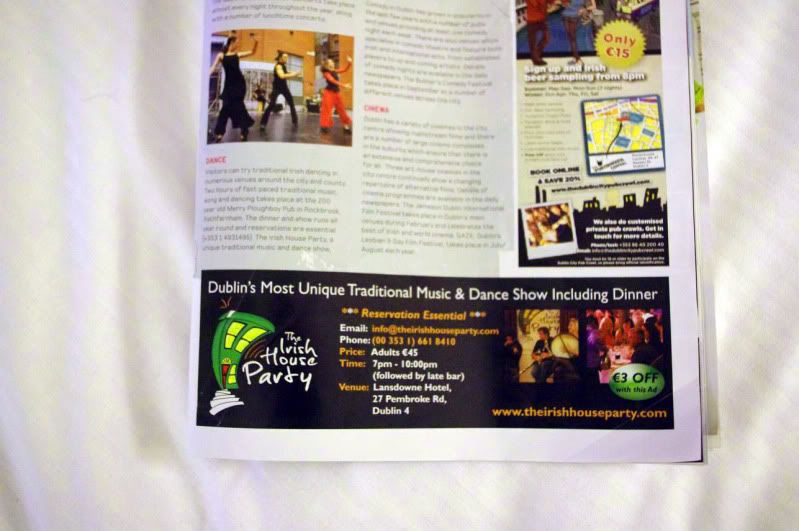 Traveller's Advise
1. If you are planning to stay in Dublin for two days, you might want to buy a ticket for the
Hop-on/ Off Bus Two Day Pass
(€19/ €16 for students)
. The bus takes you around all the tourist attractions and you can get on/ off at anytime you want. The ticket also includes one-way airport transfers (original price €7-8,which most of you will need unless you are staying near the airport, which is fairly fair from the city centre and expensive to commute) I did not actually buy this as I spent a day outside Dublin in Wicklow.
2. KEEP YOUR RECEIPTS ON ALL YOUR BOOKINGS. Although people are very nice in Dublin, there are often mistakes on many tours. Both the tour and the party that we joined, they actually did not include us in the list and mistakened the pick up spot. So make sure to be attentive!
3. Bring student card or ID if you are over 65: Discounts on almost ALL admissions :)
4. The cold and wet weather in Dublin- Ireland is a rain district throughout the year and therefore you cant really avoid rain. So be sure to wear enough and bring n umbrella!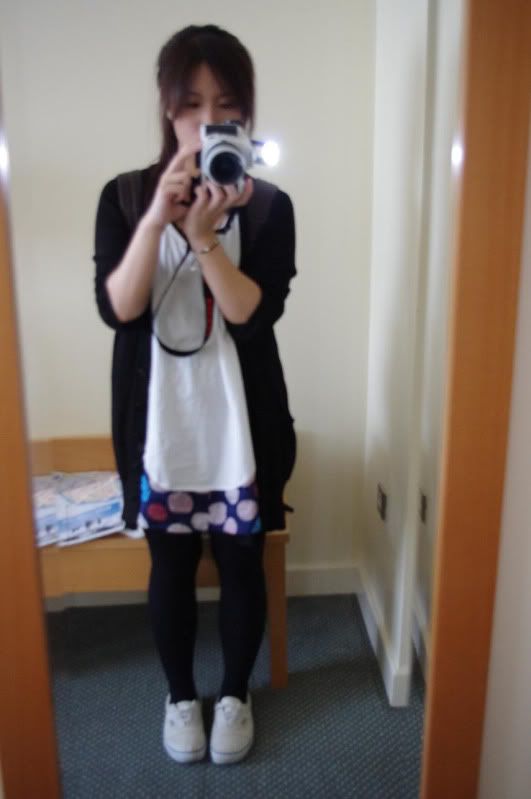 Until Next Time!